Shiv Malik - co-author of Jilted Generation - at the student demo in London 11 Nov 2010.
• Protesters occupy Conservative HQ in Millbank Tower
• Two police officers injured as tensions mount
• Bonfire started outside the building on the Thames
• NUS estimate 52,000 protesters in the capital
This page will update automatically every minute: On | Off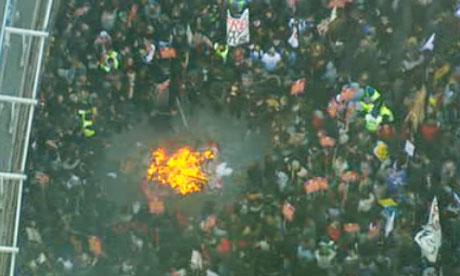 3.35pm:
Matthew Weaver has found this video footage of at least 200 protesters storming Conservative HQ shouting "Tory scum."
A harassed security guard can be seen on the phone, presumably calling for back up. What looks like a smoke bomb was set off behind the security desk.
full report
: